DC Surge Protector with LED display (30Vdc, Imax 2kA)

FV01D/2-30PV L

-Class III / Type3 DC surge protector with LED display.
-Visible fault indication - Green on: Normal; Green off: Fault.
-For using in the lightning protection zones concept at boundary 2-3.
-One-One correspondence reliable screening to ensure reliability.
-Lower voltage protection level Up.
1.Dimension of DC surge protective device FV01D/2-30PV L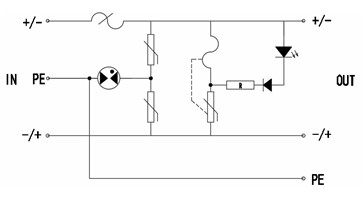 2.Electrical parameters of DC surge protective device FV01D/2-30PV L
Test class according to IEC61643-1:2005

Max. Cont. Operating Voltage

Maximum discharge current (8/20μs)

Nominal discharge current (8/20μs)

Voltage protective level at In

IL

Response time L-N, L(N)-PE

Conductor Recommended max.

Operation temperature range

Green On

:

Normal

;

Green Off

:

Fault
3. Installation
Hot Tags:DC surge protector with LED display, surge protector for computer