intelligent 3 phase type 2 surge protector box type
Item No: iSPD20C/4-255TESL
1. Intelligent three phase type 2 surge protector box type.
2. Designed for on-line monitoring of surge protection device degradation, circuit breaker working status, surge protector action times (surge counting), earthing status, and surge arrester Real time temperature (if surge protective device with this function)
3. TVSS with On-line checking automatically, real-time monitoring.
4. 4-bit LED display surge filter.
5. Water proof IP65, adopt RS485 cable communication transmission data for monitoring module, which can connect with background server, to record and check the data.
Product Description
1. Installation of intelligent 3 phase type 2 surge protector distribution box type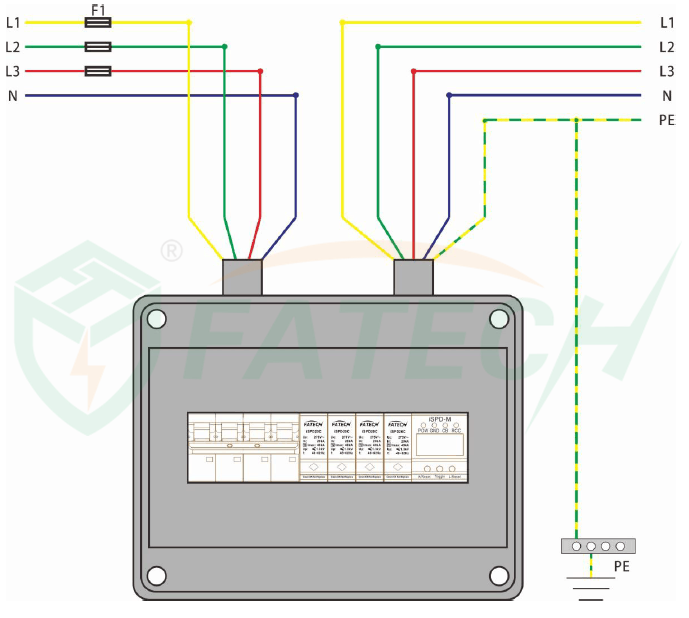 2. Electrical Parameters of Intelligent 3 phase surge protection distribution box type
Model. No.

iSPD20C/4-275TESL

Test class according to IEC/EN61643-11:2011

II

Test class according to EN61643-11:2012

T2

Type of Network

TT, TN

Protection mode

L1,L2,L3-N , N-PE

Nominal voltage

UN

220/380V~, 50(60)Hz

Rated Voltage (Max. Cont. Operating Voltage)

Uc

275V

Maximum discharge current (8/20μs)

Imax

40kA

Nominal discharge current (8/20μs)

In

20kA

Voltage protective levelat In

Up

≤1.2kV

Isolation resistance

Risol

>102MΩ

Response time

tA

≤25ns

Circuit Breaker

63A

I/O Connections

By screw terminal:10-35mm2

By connection bus

Operation temperature range

-40℃~+85℃

Degree of protection

IP65

Housing material

UL94V0

Disconnection indicator

Mechanical indicator(Green: OK, Red: Replace)

Remote control contact

Yes

Color

Gray

Dimension

250*195*110mm
3. Intellegient Parameters of type 1 3 phase surge protection distribution box type

Model No.

Intelligent module

Function

Collect 5 channels signals:

1 channel SPD remote control contacts signals,

1channel ground connection working status

1 channel circuit-breaker working status,

1 channel SPD action times (surge counting)

1channel SPDReal time temperature(max4 way)

SPD Remote signal monitoring

1 channel / built-in signal interface

Circuit-breaker status monitoring

1 channel / Determine whether SPD is working

Surge counts

1 channel / (0-999) built-in sensor

Grounding monitoring

1 channel / Detecting the working state of grounding system

Network

Flexible networking

Agreement

Specific agreement

Communication

RS485
Inquire