Plug type socket surge protector
Item No: PSPD-25i-A
1. New designed small size surge protector for socket.
2. Plug-in with AC power socket by yourself, no need professional for installation.
3. Convenient for bring along with you.
4. Suitable for large business building through small residential house.
5. Low cost, safety application
6. Accordance with IEC61643-11:2011, EN61643-11, DIN VDE0675-69, ANSI/IEEEC62.41.1-2002
7.
Switherland, Thailand, Israel, U.K., Italy, Brazil, South Africa plug type is available
Product Description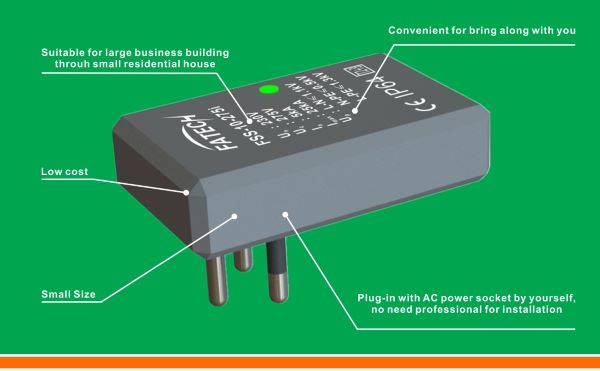 1.Dimension of plug type socket surge protector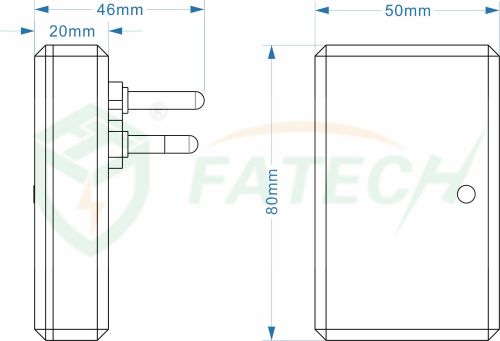 2.
E

lectrical parameters
of
plug type socket surge protector
Model. No.

P-SPD/25i-A

SPD protection conforms to EN 61643-11

Type2+3

SPD installation type conforms to EN 61643-1

ClassII+III

Protection level conforms to DIN VDE0675-6

C+D

Protectionmode

L - N , N - PE , L - PE

Nominal Voltage 50(60)Hz UN

230V~

Maximum continuous operating voltage UC

264V~400V at current 7100mA, 50Hz

Maximum discharge current (8/20μs) Imax

25kA

Nominal discharge current (8/20μs) In

5kA

Voltage protective level Up

L-N

≤ 1.1kV

N-PE

≤ 0.5kV

L-PE

≤ 1.3kV

Open circuit voltage Uoc

10kV

TOVs surge current

>5A in 200mSec, 50Hz

Let through voltage (TOVs)

<275V at TOVs surge current

Response time tA

L-N

<25ns

L/N-PE

<100ns

Recommended back-up fuse

16AgL/gG

Thermal Cut-off Member

Internal

Disconnection indicator

Mechanical indicator

Degree of protection

IP64

Housing material

UL94V-0

Ambient temperature

-40°C ~+80°C

Permissible humidity

30%~90%

Plug type

Switherland, Thailand, Israel, U.K., Italy, Brazil, South Africa plug type is available
3. Installation of
plug type socket surge protector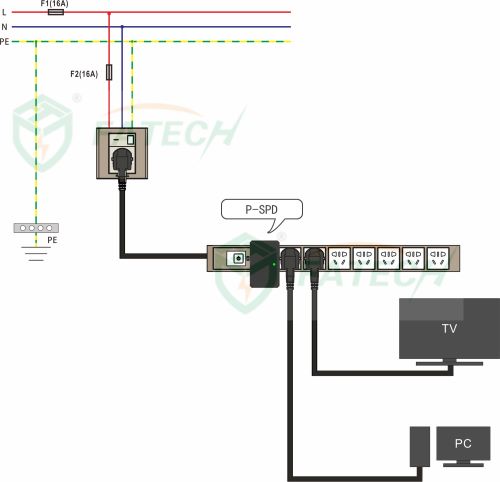 Inquire