spark gap type 1+2 surge arrester 25kA
Item No: FV25B/1+NPE-255S
- Spark gap technology.
- High impulse current multi-layer 1 phase type 1+2 25kA surge arrester.
- With indication window, with remote control contacts,
- Compact design,
-Used in the lightning protection zones concept at boundary LPZ0B-LPZ1,
-The core parts are spark gap with high discharge capacity,
-35mm2 DIN-rail in accordance with EN 50022/DIN46277-3,
-Low residual voltage and quick response.
-Protection mode: L-N, N-PE.
Product Description
1.Dimension of surge arrester
FV25B/1+NPE-255S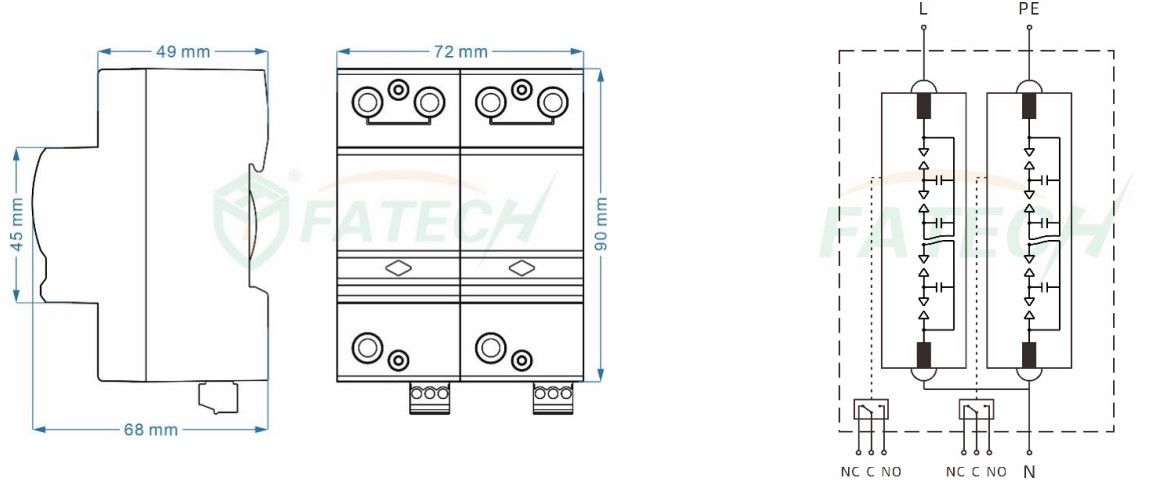 2.
Electrical parameters
of
surge arrester
FV25B/1+NPE-255 S

Model. No.

FV25B/1+NPE-255S

SPD protection conforms to IEC61643-11 / EN61643-11

Type 1+2

SPD installation type conforms to IEC61643-11 / EN61643-11

ClassI+II

Protection level conforms to DIN VDE0675-6

B+C

Type of Network

TT

Protectionmode

L-N , N-PE

Nominal Voltage UN

230 Vac/50(60)Hz

Maximum continuous operating voltage UC

255 Vac/50(60)Hz

Continuous operating current IC

<20 µA

Residual current IPE

≤20 µA dc

≤500 µA ac

Standby power consumption PC

≤25 mVA

Nominal discharge current (8/20μs)[L-N]/[N-PE] In

≥25/50 kA

Impuse discharge current (10/350μs) [L-N]/[N-PE] Iimp

≥25/50kA

Voltage protection level Up

≤1.5 kV

Isolation resistance Risol

>1000 MΩ

Response time tA

≤100 ns

Follow up current extinguishing capability [L-N]/[N-PE]

≥25 kArms / 100 Arms

Let-Through-Energy in combination with an MOV S20K275 Iimp 0÷25kA(10/350μs)

≤151 Jouls

Temporary overvoltage (TOV)

L-N:≥440 Vac/120 min
N-PE:≥1200 Vac/200 ms

Remote control contact

YES

Disconnection indicator

Mechanical indicator

(Green: OK, Red: Replace)

Minimum area of connecting cable

16 mm2

Maximum area of connecting cable

35mm2

Installation location

Inside

Mounting type

35mm DIN rail acc. to EN 60715

Color

Gray

Degree of protection

IP20

Housing material

UL94V-0

Ambient temperature

-40°C ~+80°C

Altitude

≤2000 m (amsl (above mean sea level))

Permissible humidity

30%~90%
3. Installation of surge arrester FV25B/1+NPE-255 S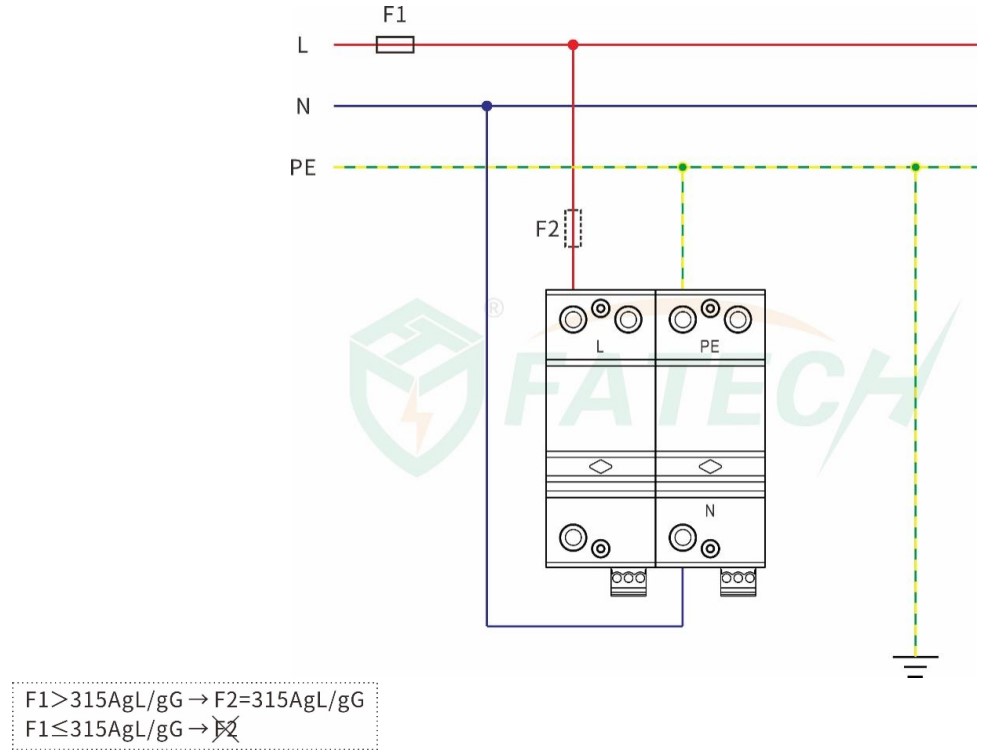 Inquire