TUV certified DC SPD, Y type PV surge arrester
Item No: FV20C/3-1000PVS
-
DC surge arrester
used for photovoltaic system.
-The core parts are metal oxide vristor components with high discharge capacity.
-With Reliable control thanks to Thermo Dynamic Control disconnector.
-With remote signaling contact for control device.
-Fault indication via red mark in the inspection window.
-3 poles, Y type.
Product Description
1. Coding system



2.
Dimension and circuit drawing of DC surge arrester FV20C/3-1000PVS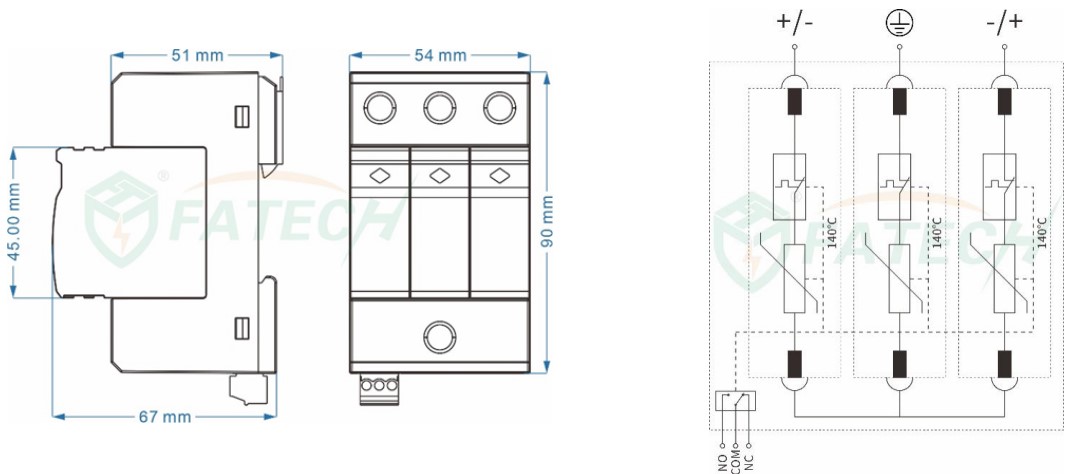 3.
Electrical parameters
of
DC surge arrester FV20C/3-1000PVS
Model. No.

FV20C/3-1000PVS

SPD protection conforms to EN50539-11/IEC61643-31

Type 2

SPD installation type conforms to EN50539-11/IEC61643-31

ClassII

Protection level conforms to DIN VDE0675-6

C

Type of Network

Photovoltaic systemsDC side

Protectionmode

(+/-)-->PE , (-/+)-->PE, (+/-)-->(-/+)

Nominal Voltage UN

1000 Vdc

Maximum continuous operating voltage for PV application UCPV

1200Vdc

Short-circuit current rating ISCPV

100A

Continuous operating current ICPV

<20 µA

Rated load current IL

80 A

Residual current IPE

≤20 µA dc

≤500 µA ac

Standby power consumption PC

≤25 mVA

Maximum discharge current (8/20μs) Imax

40 kA

Nominal discharge current (8/20μs) In

20 kA

Voltage protection level Up

≤3.6 kV

Isolation resistance Risol

>1000 MΩ

Response time tA

≤25 ns

Remote control contact

YES

Disconnection indicator

Mechanical indicator

(Green: OK, Red: Replace)

I/O Connections

By screw terminal:10-35mm2

By connection bus

Installation location

Inside

Mounting type

Symmetrical rail (EN50022/DIN46277-3)

Color

Gray

Degree of protection

IP20

Housing material

UL94V-0

Ambient temperature

-40°C ~+80°C

Altitude

≤2000 m (amsl (above mean sea level))

Permissible humidity

30%~90%
Hot Tags:DC surge arrestors, DC surge arrestors manufacturer,China DC surge arrestors,
DC surge arrestors supplier
4.

Installation of

DC surge arrester FV20C/3-1000PVS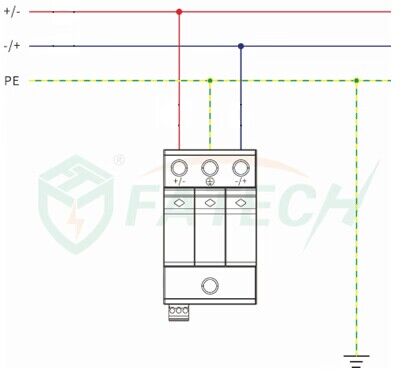 5. TUV-mark, TUV-CE certificates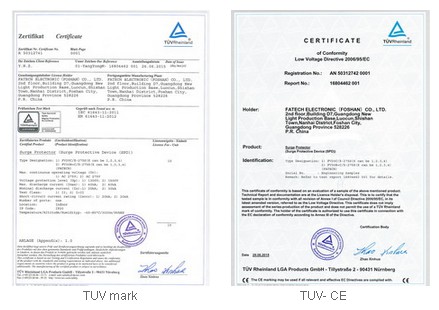 Inquire